WE SUBMIT YOUR FDA PRIOR NOTICES FOR YOU!
We create the FDA prior notice for all your shipments to the USA!
You simply give us access to what items need Prior Notices and we process them in less then 48 hours.
We fill Prior Notices using the Prior Notice System Interface (PNSI) on the fda website.
We save you time, money and provide accurate prior notices.
WHAT NEEDS US FDA PRIOR NOTICE?
As of December 12, 2003, FDA must be notified in advance of any shipments of food for humans and other animals that are imported into the USA unless the food is exempt from Prior Notice.
Examples of "Food" Include:
Fruits, Vegetables, Fish and seafood, Dairy products, Eggs, Raw agricultural commodities for use as food or as components of food, Animal feed (including pet food), Food and feed ingredients, Food and feed additives, Dietary supplements and dietary ingredients, Infant formula, Beverages (including alcoholic beverages and bottled water), Live food animals, Bakery goods, Snack foods, Candy, and Canned foods.
WHAT DOES YOUR SERVICES COST?
$1 per Unique Prior Notice Entry. We use a credit system to deduct credits from your account. Credits can be purchased at different price points and via subscriptions.
CAN I TRY YOUR SERVICE FOR FREE?
Yes all new account registrations get 5 FREE PN credits.
Top 5 reasons to choose USAPRIORNOTICE to submit your FDA Prior Notices.
Our Systems intregate easily with multiple ecommerce channels
Our Prices are clearly listed on our website
We give every customer free credits to test our service
We use our databases to do Prior Notices Efficiently and Accurately every time!
If we make a mistake, we do it again at no charge
DO YOU HAVE A AFFILATE PROGRAM?
Yes we offer our affiliate's $1 per successful user signup and a 20% Commission on all Credit Purchases.
HOW MANY PRIOR NOTICES CAN YOU DO A DAY?
Currently do between on average about 1000 Prior Notice entries a day, We have the capacity to do much larger amounts, as we have the systems in place.
WHY CHOOSE OUR SERVICES?
We launched our service in 2018, We have submitted over 200,000 prior notices!
Today we have the capacity to do 50,000 prior notices every day if required.
Example Prior Notice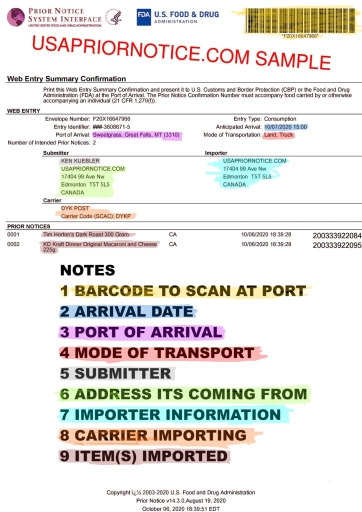 Filing Prior Notice of Imported Foods Regulations
Prior Notice must be provided for all food for humans and animals that is imported or offered for import into the United States (Title 21 Code of Federal Regulations (21 CFR), Part 1, Subpart I). Prior notice can be provided in one of two ways:
The U.S. Customs and Border Protection (CBP, formerly the U.S. Customs Service) modified the Automated Broker Interface of the Automated Commercial Environment(ABI/ACE) to allow prior notice to be submitted to FDA through the existing interface between CBP and FDA.
The Prior Notice System Interface (PNSI) is available to individuals or companies who cannot, or choose not to, file through CBP. PNSI submissions are expected to include prior notice for shipments through international mail; In-Bond entries or admissions into FTZ by carriers or others who do not need to make a full CBP entry at the time of filing the prior notice; filers or brokers who need to file CBP entries at a time the ACE/OASIS interface is not available, and others who simply prefer to use an interactive system.